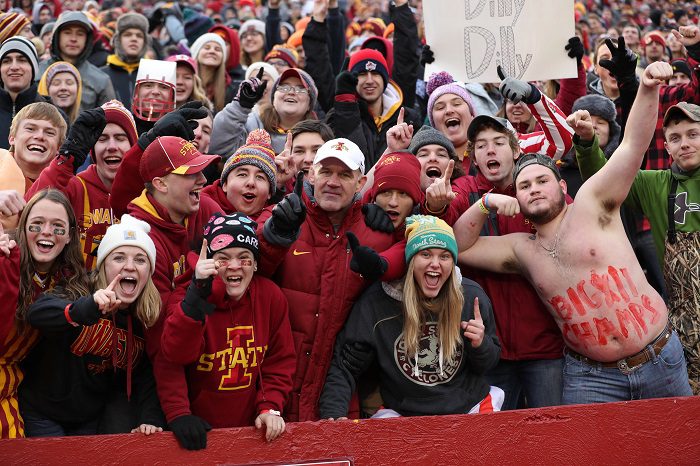 Finally! The bowl week is here for Cyclone fans. I know many Iowa State fans have had this trip to San Antonio booked for weeks and if you are one of those traveling to the Alamo City, you're probably wondering, what in the heck am I supposed to do down there for several days? Well, good news for you is that I just so happen to live in San Antonio for the last two years and while I may not be a true San Antonian, I think I know this city well enough to share some of my favorite places to go as well as suggested places by other folks that I know. While I may not be attending the Alamo Bowl this season (Thanks Alamo Bowl credential people), I think I may be able to help you out on what do, see and eat here. My suggestion? Don't be afraid to travel around the city and venture out from the Riverwalk. Here you will find THE BEST Tex-Mex this country has to offer and as always one of my favorites, breakfast tacos. So, without further due, here is my personal travel guide to the city. Side note: If you have any issue with the list, make your own.  Enjoy!
Places to See
The Alamo
Do I really need to say more than just "The Alamo"? This mission was home to the battle of the Alamo in 1836 in the fight for Texas Independence. This historic mission is now a museum and here you will learn about the Alamo itself and all the history it has with it. It is smaller than what you probably think but it is a very neat thing to check out if you haven't been before. The don't call San Antonio "That Alamo City" for nothing.
The Riverwalk
From everything I have seen, many of Iowa State fans will be staying near or right on the Riverwalk so I would assume that this is where you will spend most of your time. While there is plenty of shops, restaurants and bars along the banks (I'll get to more of those later in this list), my personal favorite thing to do here is to take a boat ride on the Riverwalk. During the holiday season, you can see plenty of Christmas lights on the cypress trees at night and get to learn a few things about the Riverwalk itself. Whether your taking a double decker bus tour or a boat tour (I suggest the boat tour at night), this is the hot spot of San Antonio.
Tower of the Americas
This 750-foot-tall tower was built back in 1968 for the 1968 world fair and is currently the tallest building in San Antonio. Go up to the observation deck for the best view of the city and much like the river walk boat tour, it's best enjoyed at night. If you're hungry, Landry's Restaurant is located just below the observation deck and the cool part about it is, it continuously rotates so you'll get a great view of the entire city while u enjoy your meal. I've had the pleasure of enjoying a few cocktails there and it was quite the experience soaking up the view and of course, my drink.
Places to Drink
Before I start listing off some of my favorite places, they are a TON of places to grab great drinks throughout the Riverwalk. Probably so many it would take me hours to go through but here are some of my favorite places to grab drinks in San Antonio.
The Pearl
This is my favorite place to be in the entire city when it comes to eating and having some drinks. Otherwise known as the Pearl Brewery, there are many different options here for this local hot spot. From bars, to restaurants, coffee houses, bakeries and even a little BBQ, this place has a little bit of everything you would love. Again, there are so many great places here it would be unfair of me to leave off any place. My suggestion is to check out the places online and when you go there, explore the many great options the Pearl has to offer. The options are endless here!
Blue Star Brewing Company
Another one of my favorite places to go have some great food and great drinks. While it isn't that big of an area (I suggest taking an uber due to the shortage of parking), Blue Star is a restaurant and bar with outstanding grub and of course drinks. In this area you will find a few other places such as 1919 bar, art galleries and Stella Public House which is a brew pub. If you can't get to the Pearl, do yourself a favor and check out this place. If you want to be big time, check out both.
Other Spots to Drink
Esquire Tavern- Quiet spot with classic drinks and the longest wooden bar top in Texas.
Mad Dog's- A cool British Pub.
Yard House- Place where the tall beers are endless.
Breakfast
The Gunther House- If I want breakfast in San Antonio that doesn't include breakfast tacos, this is my spot. It's a very home like setting as if you were eating breakfast at a bed and breakfast. This place has delicious pancakes, waffles and more. Get the breakfast platter, I promise you will thank me later.
This part will be dedicated to breakfast Tacos and if you don't know what they are, do yourself a favor and GO EAT SOME! In this city you will find the best breakfast tacos in the state of Texas (Sorry Austin). This is how people here eat breakfast and is a true staple of this city. My personal taco order: Bean, Bacon and egg. Yes, beans for breakfast. Don't forget to add some salsa for a little extra kick to your taco.
Bill Miller's- All throughout San Antonio, this a good spot to grab a taco if you're in a hurry. (Get the country sausage)
Tacos N Salsa- I have been here a few times and I would strongly suggest you order the trash can taco. Sounds nasty but taste delicious.
The Original Donut Shop- This place has always been known as one of the best if not the best place to get a breakfast taco.
El Milgrito Café- Without a doubt, a top 3 spot to get a breakfast taco in this city. Tortillas are to die for here.
Other places include: Taco Haven, Taqueria Datapoint and Ruthie's
Tex-Mex
I'll say this, there are so many places to get great Tex-Mex here, but here are some of my personal favorites.
Tomatillo's- Don't get to come here often but I enjoy the margaritas and the fajitas here.
Rita's- Located right on the Riverwalk and I will say the margaritas are outstanding. Not the best food but for the drinks and scenery, it's a solid option.
Rosario's- Go to the downtown one for starters. This is a very popular spot with great authentic Mexican food.
El Chaparral- Look, I know it's far from the Riverwalk, but it is worth the drive. Great food, service and drinks here.
Mi Tierra- A very well-known spot located in the heart of the city.
Burgers
Tycoon Flats- My favorite hamburger place in San Antonio. The burgers here are big, unique and delicious. This is a must stop in this city without a doubt. Also, it's right across the street from El Milgrito Café.
Chris Madrid's- If you love a good cheeseburger, you can't go wrong here. This is a very popular place to grab a solid burger here in San Antonio.
BBQ
2M Smokehouse- As a complete BBQ snob, this is the best BBQ in San Antonio PERIOD. Here you will find some of the best brisket this city and state have to offer. Also, get the mac and cheese here with your order. This is a MUST stop if you want BBQ. Get there early though because this place will sell out quick and seating is limited.
The Granary 'Cue and Brew- Located at the Pearl, this is more of your high-end BBQ joint. Here you will find unique slow cooked meats and you can wash it all down with a cold beer.
B-Daddy's BBQ- Located in Helotes, here you will find some solid brisket and probably the best smoked turkey in the city.
Chicken Fried Steak
Another Texas staple. Chicken fried steak with mashed potatoes and gravy. Here some places to check out if you're in the mood for a classic Texas favorite.
Places: M.K. Davis, Longhorn Café, Saltgrass and Good Time Charlie's
**Sign up here for our HCS weekly e-mails for a chance to win FREE Heartland College Sports and Big 12 team gear!!**