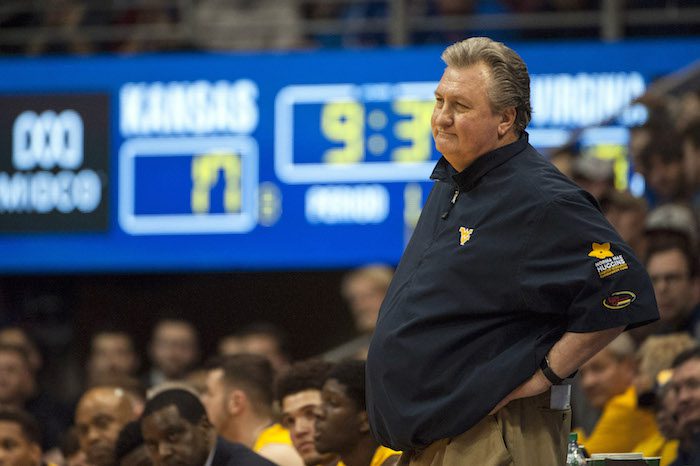 Between now and the beginning of conference action in Big 12 men's basketball, HeartlandCollegeSports.com contributor Matthew Postins will watch at least one game for each Big 12 team and assess where each team stands in the final weeks before league action. Today it's the West Virginia Mountaineers.
This is Esa Ahmad's team
The buzz in the preseason was on forward Sagaba Konate (and we'll get to him). But if you ask me this Mountaineers team will go as far as forward Esa Ahmad can take them. Against Pitt he showed me he has a complete game now — shooting, rebounding and defending. He's still not a great shooter from distance. But his feel for the game and knowing the right time to drive, to dish and to pull up and take the 15-foot jumper is well ahead of last season. He's assumed a leadership role he didn't need to a year ago and leads the Mountaineers with 15.1 points per game. Against Pitt he scored 13 points, grabbed 7 rebounds and produced 2 steals playing a team-high 35 minutes. Ahmad may be overshadowed by Konate's gym-rattling blocked shots, but his overall game will be just as important in winning Big 12 games.
Maybe Sags is finally back
On paper Sagaba Konate's game looks good — 13.6 points per game, a team-high 68 rebounds and 22 blocked shots. But as I tuned in for the Pitt game Konate was on the bench and ESPN's Fran Fraschilla was talking about how head coach Bob Huggins might be sending Konate a message of sorts by not starting him. NBA scouts sent Konate a message in May — you're not ready for the Association. League scouts gave him some things to work on, including extending his game away from the basket. Huggins talked about that at Big 12 Media Days. But Konate's 23 3-point attempts in his first eight games are notable in that he didn't attempt a 3-pointer last season. The percentage isn't bad at all — 39.1 percent. And the NBA may want that next season. But right now the Mountaineers need him to be Sags, the shot-blocking, glass-cleaning monster he was last season. If that's what he had not been going into the Pitt game, he found his mojo against the Panthers. After trying and missing two 3-pointers, Konate got back to business, entered the paint and finished with 16 points, 9 rebounds and 7 blocked shots (the last blocked shot made him the program's all-time leader in the category). If that's the Konate the Mountaineers are going to get the rest of the season, then everything is back to normal — and that's great news.
Who's the point guard?
In reality it's James Bolden, who was the team's third guard last season. He's the player I expected to be the point going into this season. But even last year I wasn't sure if he was the right fit for the position. After the Pitt game I'm still not sure. Against the Panthers he put up 18 points. But he also had as many assists (4) as turnovers (4). That's not a good assist-to-turnover ratio for your main ball handler. But it's also a team-wide problem, as the Mountaineers have the worst A-to-T ratio in the Big 12 (0.8). I expected a dip in that area with no Jevon Carter and Daxter Miles in the fold. But that's a significant drop. The Mountaineers can work Chase Harler, Jermaine Haley and Brandon Knapper into the ball handling role in spots, and I would imagine that Huggins would like to move Bolden to the off-guard spot where he is more comfortable. But until another guard or forward shows they have comfort running the offense, it's Bolden's job.
'Press Virginia' is not gone, per se
Fraschilla was all about saying that "Press Virginia is dead" at the start of the broadcast. Well, maybe in its previous form. But the team I saw against Pitt can definitely still press. Now, the Mountaineers weren't doing it after every possession the way they were a year ago. But after made baskets and coming out of dead-ball possessions the West Virginia defense was nearly as stifling as they were a year ago. The defense forced 24 Pitt turnovers, and the Panthers' youth at the guard position had something to do with that. But the Mountaineers trapped well in the full court and the half court and turned possessions over consistently. Yes, the Mountaineers are working in new pieces, especially on the bench. But the core of what made "Press Virginia" work last season is still there.
Protect the basketball
On the other side, the Mountaineers are having real problems protecting the basketball, something Carter and Miles were terrific at a year ago. No Big 12 team has committed more turnovers so far than West Virginia (148) and they're one of only two Big 12 teams upside down in turnover margin. The Mountaineers are averaging 16.4 turnovers per game. Contrast that to last year when the Mountaineers averaged just 11.4 turnovers per game. That's the value of quality point guard play. For now its something the Mountaineers are going to have to manage. Oh, and by the way, the turnover leader for the Mountaineers is NOT Bolden. It's Ahmad with 30.
It's a different Mountaineers team and that was to be expected. The core of Ahmad, Konate, Bolden, Lamont West and Wesley Harris are a solid starting five (and West is averaging 11.1 points per game, by the way). The question I have is the depth. Harler is a solid shooter from the arc. Knapper is a nice addition in the back court. But beyond that this doesn't look like a deep West Virginia team, and if you're going to play "Press Virginia" basketball you need that depth. This could be why the Mountaineers are choosing their spots with the press. This should be a competitive team in Big 12 action, but if they suffer a serious injury to any of their Top 5 players they're in trouble.
Next up: The Texas Longhorns take on Purdue.  
**Sign up here for our HCS weekly e-mails for a chance to win FREE Heartland College Sports and Big 12 team gear!!**