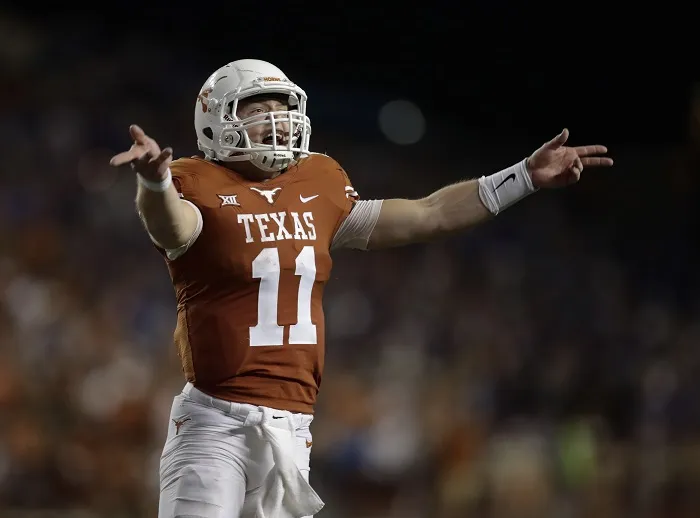 Texas Tech and Texas came into Saturday night's match up with two-game losing streaks. The Longhorns ranked as high as No. 6 in the country before losses at Oklahoma State and home against West Virginia. The Red Raiders were 5-2 heading into a tough three-game stretch that started with close losses to Iowa State in Ames and home last week against Oklahoma.
This game looked like it was going to be a comfortable win for the Texas Longhorns. UT did trail 7-0 after the first quarter, but the Longhorns scored 17-straight points in the second quarter, including touchdowns from Sam Ehlinger to Lil'Jordan Humphrey and a run by Keaontay Ingram, had Texas up 17-7, and eventually 17-10 at halftime. The Longhorns added 10 points in a relatively quiet third quarter.
Then, the fireworks began.

The fourth quarter saw a combined 38 points scored between the two teams. The Red Raiders and Longhorns swapped touchdowns, with Tech still trailing by 17 points with under 10 minutes to play. A Clayton Hatfield field goal cut it to two scores with 6:23 to play and then Texas Tech recovered an onside kick. The Red Raiders effectively marched down the field going 8 plays for 61 yards and a two-yard touchdown grab by T.J. Vasher to cut it to a touchdown. The Red Raiders got the ball back with under four minutes to go and went 77 yards in five plays, capped off with a 9-yard touchdown pass to Antoine Wesley to tie the game at 34.
And we are all tied up in Lubbock! Wow!! #WreckEm pic.twitter.com/DjGi6AqnDs

— Heartland College Sports (@Heartland_CS) November 11, 2018
But, Texas wasn't done. There was still 1:45 left in the game and Sam Ehlinger's legend in Austin continued to grow on Saturday night. He led UT calmly down the field and found Lil'Jordan Humphrey on a 29-yard pitch and catch for a touchdown with :21 seconds left as UT would pick up a 41-34 win.
But Sam Ehlinger says… "Not so fast!" What a throw and catch! #HookEm pic.twitter.com/kVryGGUfmC

— Heartland College Sports (@Heartland_CS) November 11, 2018
After the victory, Texas head coach Tom Herman told FOX Sports, "You learn as a young coach to think players not plays in critical moments and No. 11 [Ehlinger] and No. 84 [Humphrey] are really good for us. He's [Humphrey] as good a jump ball guy as there is in the country and if we get one-on-one coverage we're going to try for the win.""

Despite blowing a 17-point lead, Herman added he had total confidence in Ehlinger leading this team, adding, "We were in the same position in the Cotton Bowl and we went down the field and kicked a field goal to win the game. Nobody on the team wants anybody other than No. 11 behind center in situations like that. They believe in him. He was calm cool and collected, and he was aggressive but not reckless."
Meantime, Ehlinger had no nerves on the final drive, telling FOX, "We work on it every day and every week in practice. We've got a two minute drill. We said the same thing at the end of the OU game we were going to go down and finish it and that's what we did."
The win keeps Texas in the hunt, albeit on the outside looking in, on the Big 12 Championship race and sets up a huge game for next weekend against Iowa State in Austin. Also, the Longhorns improved to 5-3 in games decided by one possession or less. This comes after going 1-4 in one possession games last year.
Texas Tech has now lost three-straight games to three ranked teams in Iowa State, Oklahoma and Texas, all by a combined 21 points. Tech is 5-5, but has a great chance to finish out the season with a couple of wins as they'll face Kansas State in Manhattan next week, followed by Baylor in Dallas.
**Sign up here for our HCS weekly e-mails for a chance to win FREE Heartland College Sports and Big 12 team gear!!**