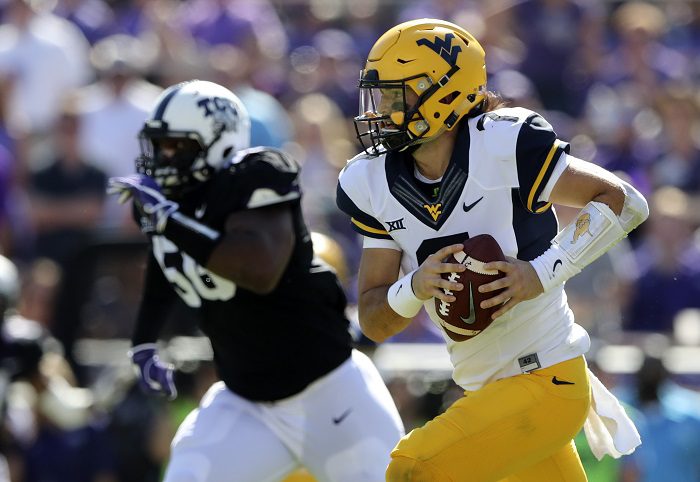 With a noon kickoff and temperatures in the mid-thirties, it was kind of a cold, slow day to start a football game. That certainly was the case when the West Virginia Mountaineers hosted the struggling TCU Horned Frogs. In fact, when the first quarter ended, TCU led 3-0 in Morgantown as both teams had a tough time doing anything on offense. West Virginia finally got on the board with a field goal of their own early in the second quarter to tie the game at three.
The two teams then went on to trade some punts before West Virginia finally decided to wake up when running back Kennedy McKoy took it 33 yards to the house to finally put the Mountaineers up 10-3 with just five minutes left in the first half. On the ensuing kickoff, TCU kick returner Taye Barber made a crucial error when he fumbled the football and the Mountaineers were able to recover the fumble. Five plays later, running back Martell Pettaway capped off the short drive with a one-yard touchdown run and suddenly, it was 17-3 West Virginia.
However, the Mountaineers weren't finished in the first half as the defense was able to get a three and out to give their offense a final drive before the first half ended. Thirty-four seconds later, Will Grier found tight end Trevon Wesco for a big touchdown as West Virginia went into the break leading 24-3. In a span of less than six minutes, the Mountaineers scored three touchdowns.
From there, things just got worse for TCU as their first drive of the second half resulted in a safety thanks to an intentional grounding call on Michael Collins from his own end zone. West Virginia, once again, made TCU pay thanks to a Kennedy McKoy touchdown as West Virginia started to run away with this one. The Horned Frogs finally scored their first touchdown when quarterback Michael Collins found wide out Jalen Reagor in the third quarter. But even with the score, the Horned Frogs were still down 33-10. From there, Will Grier was able to find Gary Jennings Jr. and David Sills for a couple touchdown passes before his backup, Jack Allison took over. West Virginia went on to beat TCU 47-10 in dominating fashion.
As usual, quarterback Will Grier was superb throwing for 371 yards and 3 touchdowns, meanwhile, the Mountaineer defense allowed just 222 total yards of offense and held TCU to -7 rushing yards on the day. West Virginia linebacker David Long Jr. had a career day recording three sacks as well. With the win, the Mountaineers move to 8-1 as they keep their conference title hopes alive. TCU on the other hand drops to 4-6 and must win out against Baylor and Oklahoma State to make a bowl game.
**Sign up here for our HCS weekly e-mails for a chance to win FREE Heartland College Sports and Big 12 team gear!!**